Lynn Mewe
Title
Princess
Age
17
Height
N/a
Weight
N/a
Gender
Female
Kingdom
5th
Status
Single
Relatives
Unnamed Father
Species
Felis Catus
Aliases
N/a
First Appearance
N/a
Appearance
Edit
Lynn has caramel mixed black hair that reaches to her knees, a black tail, pale skin and lime green, oval-shaped eyes.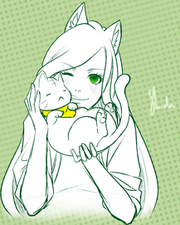 Bew (Lynn's cat) is her "live-in friend" who likes being the center of Lynn's universe. She's even able to have full conversations with him.
Lynn still hasn't outgrown her tummy rubbing phase and often wears crop tops to "advertise" for Amika when she comes over, seeing as no one else will do it.
No one is able to understand why, but Lynn likes to walk around on the tip of her toes. Fortunately, due to her cat-like genetics, it doesn't strain the muscles in her legs.
Lynn is everyone's friend. She doesn't care about looks, status, or personality. If you need a friend, she's that person.
Bew is the only mortal cat in the realm (he was technically stolen by Lynn who felt bad that he got locked out of the house).